Bath bomb base Ingredients:
Baking Soda, Citric Acid, Kaolin Clay, Almond Oil, Avocado oil, Sodium Lauryl Sulfoacetate, Epsom Salt,
Bath bomb other ingredients:
Fragrance, Essential oils, Color- Clays, Yellow 5/6 Lake., Blue 1 Lake, Red 27/28/40 Lake, Mica, Titanium Dioxide, Tin Oxide, ultramarine blue, Iron Oxide
Bath bomb other ingredients:
Botanicals can be, Lavender buds, Orange, Rose, Calendula, Chamomile, jasmine flower, etc.
To Use:
Place in bath water & enjoy. Be sure to stir the bath salts into the water & circulate them well, so the fragrances are released into the steam.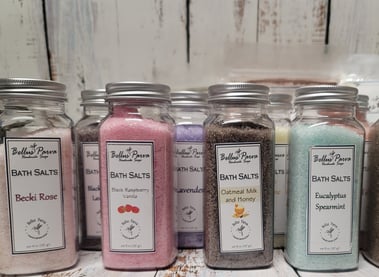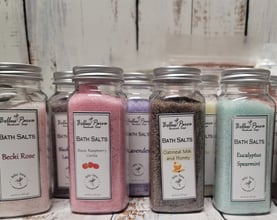 Sea Salt, Dead Sea Salt, Sodium Bicarbonate, Kaolin Clay, Himalayan Sea Salts, Sea Clay, Red Alaea Sea Salts, Red Clay, Coconut Milk, Active Charcoal, Magnesium Sulfate, Fragrance, Bellus Parvas Essential Oil Mix. (Indigo) Baphicacanthus Cusia, Mica, tin Oxide, Titanium Dioxide, Manganese Violet, ultramarine blue.
To Use:
Sprinkle salts into bath water. If your drain does not have a screen to catch the botanicals, place mixture into mesh bath tea ball or bag.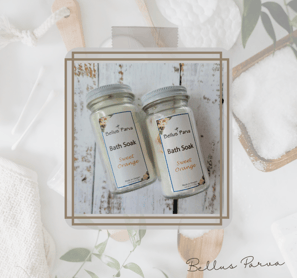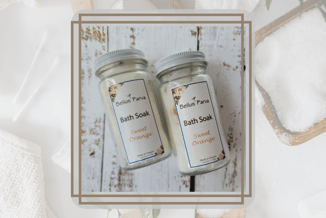 Magnesium Sulfate ( Epsom Salt), Sea Salt, Sodium Bicarbonate.
Citrus aurantium dulcis (Orange) Peel Oil. Citrus Aurantium Dulcis, Eucalyptus Oil. Spearmint oil, Rose Oil, Relaxing mix (Rose, Lavender, Chamomile, Eucalyptus}